25. Juni, 16–17.30 Uhr – live via "kulturen in bewegung" Facebook Page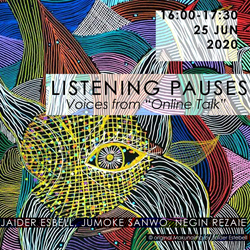 Guests: Jaider Exbell, Jumoke Sanwo, Negin Rezaie
Moderation: Marissa Lobo
Languages: Portugues and English
Translation: Portuguese to English
This talk will be an encounter of artists & activists speaking and listening from the depths of their practices during and beyond the time of Covid-19. They will be addressing issues such as: what is this moment of suspension we are experiencing? What do different perspectives and realities of confinement tell? What can ancestral technologies of resistance and creative strategies of crossing teach? What futures are we manifesting? What does a "return to normality" mean and for whom?
This discussion is part of the campagne #voicesfrom where 'Kulturen in Bewegung' is highlighting reports and artworks from artists, activists, thinkers reflecting on the current pandemic Covid-19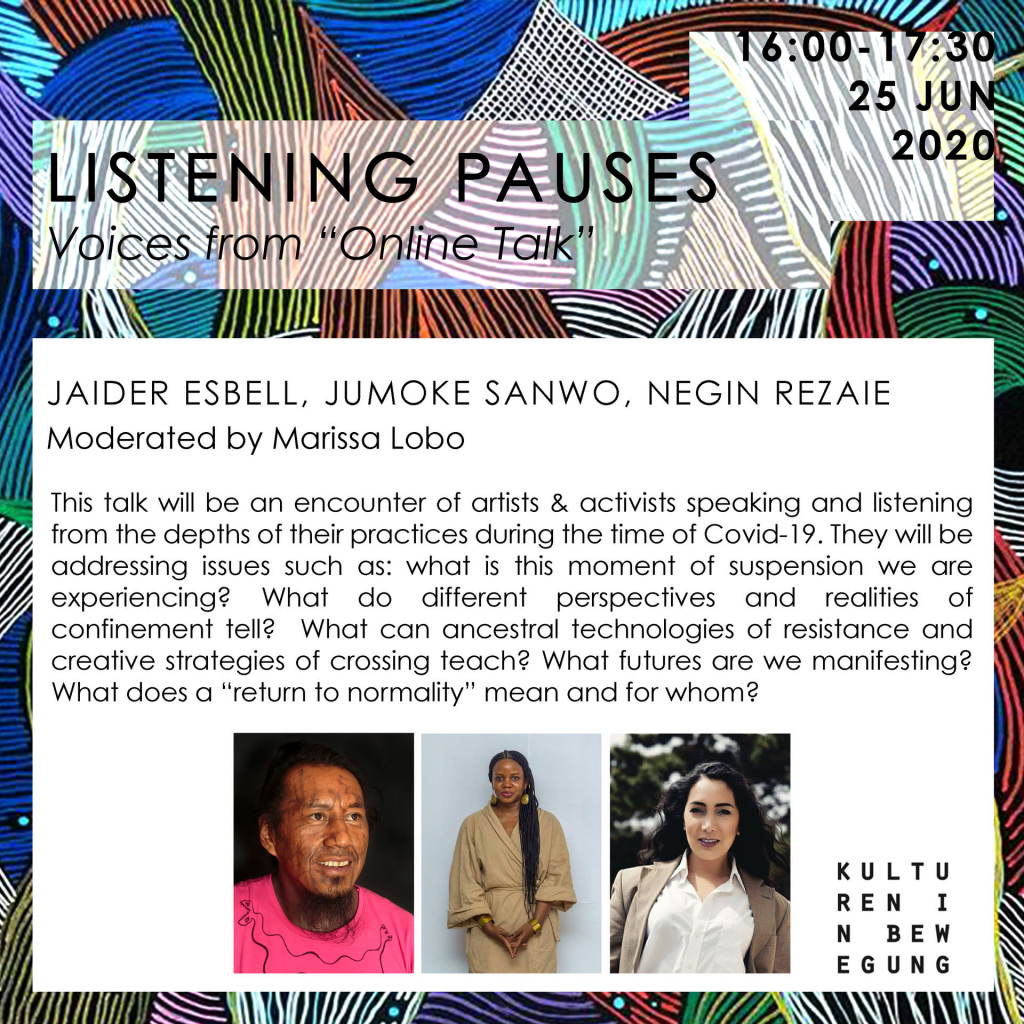 Jaider Esbell Normandia RR. indigeneous Makuxi from TI Raposa – Serra do Sol. He is a Producer, Curator and Free Researcher of the Contemporary Indigenous Art System. His work has repercussions in Brazil and abroad. Moved to Boa Vista in 1998 where he lives and maintains the Jaider Esbell Gallery of Contemporary Indigenous Art. Visit www.jaideresbell.com.br for more information. Jaider Esbell is recognized as one of the most active indigenous thinkers of today.

Jumoke Sanwo is a Storyteller and Cultural Producer from Lagos Nigeria. She is the creator of Lagos at Large a VR Film and Ode to the city of Lagos. She is the founder and creative director of the Revolving Art Incubator, an alternate art space in Lagos, which was listed in the February 2019 New York Times article, as one of the sharpest artist-led spaces in Lagos. https://invisible-borders.com/artist/jumoke-sanwo/

Negin Razeie (Shiraz/Iran), Artist, Actress and Performance Artist, Curator, Inventor and Activist, studied Sculpture in Iran. After her flight and arrival in Austria 2015, Negin worked as actress and performer for ".evolve Company", currently as ensemble member of "Nesterval". Projects for "Wiener Festwochen", "World Museum Vienna", "Wienwoche" and "Filmakademie Wien" and many more; Further informations: www.neginrezaie.at.
Further information: